Indigenous people and settlers share a history — some of us are survivors of that history, some of us benefited from it, and some of us carry both survival and benefits through our ancestors. This deep historical conflict divides all our relations from one another and ourselves. To heal and move forward from this history, we need to know what happened so that we can better recognize our responsibility to decolonize our minds, our hearts, our language, and our actions.
Here are some introductory resources about our shared histories. These offer good places to begin the conversation toward truth and healing.
Acknowledging the Land and Its People
The Land You Live On – An interactive map – a resource for North Americans and others to learn more about local Indigenous territories and languages. Comes with a Teachers' Guide. (Interactive internet resource.)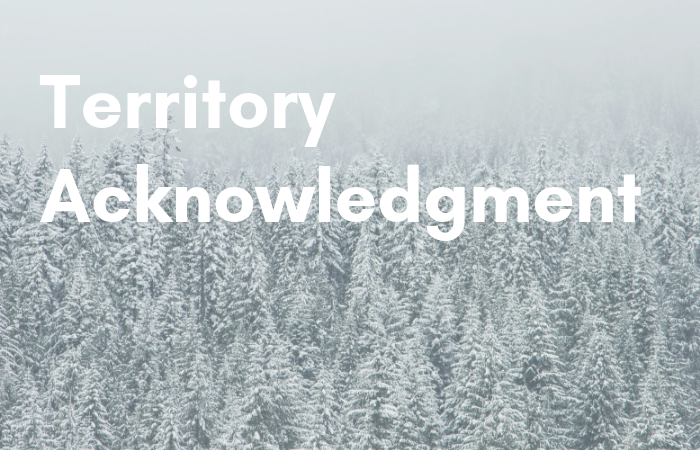 The Canadian Friends Service Committee has created this 2-page guide to support conversations about the places where we all live, work, play and worship, and to answer questions about how to (and how not to) acknowledge the Indigenous peoples who have roots in those lands.
The Native Governance Center has provided a resource —A Guide to Indigenous Land Acknowledgment — for groups considering a statement acknowledging the land where they live, work, or worship, and the Indigenous peoples who have related to that land. The Center then produced a supplement, titled Beyond Land Acknowledgment. The first focuses on the care that should go into crafting the statement, the second focuses on what the acknowledgment should then mean for action.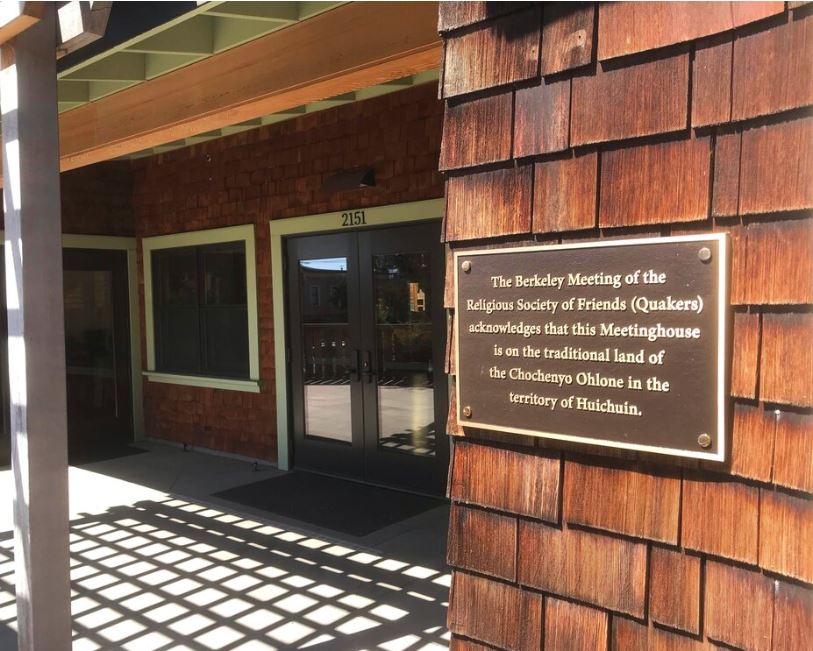 Example: Berkeley Friends Meeting (Vine Street Meeting) has been developing a close relationship with the Ohlone in the East Bay area. The meeting has now placed a permanent plaque near the entrance of the meetinghouse, acknowledging the first people who made their homes in that place. Read their story.
People
The Gatherings: Reimagining Indigenous Settler Relations introduces us to a group of thirteen Indigenous and non-Indigenous people who met together annually for several years to gain a deeper understanding of each other's lives and culture. "Meeting in a Wabanaki-led traditional Council format, assumptions were challenged, perspectives upended, and stereotypes shattered. Alliances and friendships were formed that endure to this day."
"The Gatherings tells the moving story of these meetings in the words of both Indigenous and non-Indigenous participants. Reuniting to reflect on how their lives were changed by their experiences and how they continue to be impacted by them, the participants share the valuable lessons they learned. Now, more than ever, it is critical that we come together to reimagine." (Excerpts from review by Birch Bark Books.)
Two Rivers: A feature documentary about a couple in Washington State who sought out the descendants of the original people of the lands where they were living. A very encouraging film that could help a local group of non-Indigenous people imagine how they might reach out to become acquainted with Indigenous people in their area. Released in 1996 by Greenleaf Street Productions; available on DVD for about $15 at the link above.
"This November, Try Something New: Decolonize Your Mind." In this short blog, Mary Annette Pember (Ojibwe), an award-winning journalist, talks about decolonizing our minds. "Make no mistake," she writes, "decolonizing the mind is not without risk or discomfort. To decolonize is not only an act of humility and acceptance; it requires the courage to take responsibility for our role in this great, relentless process that is our life on Earth. " Short blog.
Finding What's True
Tribal Nations and the United States: An Introduction, a publication by the National Congress of American Indians. The 47-page book provides an authoritative, accessible and colorful overview of the history and current life of tribal governments. A book to peruse and refer to many times. Can be downloaded as a .pdf or purchased through the link above.
National Museum of the American Indian (NMAI). If you visit Washington, don't miss this Smithsonian Museum. But the NMAI also offers excellent on-line education resources, such as the new Dialogue Toolkit for teachers (or discussion leaders) introducing material about Native peoples. (Both a place and a toolkit.)
Thriving in Indian Country: What's in the Way and How Do We Overcome? Anton Treuer (Ojibwe), frames a way to think about race, class, wealth, and many other things that we believe divide us from each other. His presentation is warm and positive, as well as truthful and challenging. This brief video, a Tedx talk available on YouTube, could begin a group conversation on acknowledgment, and a deeper exploration of the hard facts of colonization, genocide, and the future trajectory for indigenous people on this continent.
All the Real Indians Died Off" and 20 Other Myths about Native Americans by Roxanne Dunbar-Ortiz and Dino Gilio-Whitaker. The authors of this book reveal the mythology and explore the roots of each myth.
Workshops
Roots of Injustice, Seeds of Change – Toward Right Relationship with Native Peoples: This 2-hour experiential workshop for adults traces the historic and ongoing impacts of the Doctrine of Discovery. The goal of the workshop is to raise the level of knowledge and concern about these impacts, recognize them in ourselves and our institutions, and explore how non-Indigenous people can begin to take actions toward right relationship with Native peoples. Offered by Paula Palmer of Boulder Meeting and a network of facilitators, in partnership with Friends Peace Teams.
Re-Discovering America: Understanding Colonialization: A 1-hour program for middle and high school students. In this interactive exercise, students symbolically experience the colonization of North America as the Native peoples and the European colonists experienced it. They hear the voices of Indigenous leaders and European popes, monarchs, presidents, generals, and Western historians as the story unfolds. Also offered by Paula Palmer, in partnership with Friends Peace Teams.
Stepping Up to Learn a Little More
Indigenous Peoples History of the United States by Roxanne Dunbar-Ortiz was called by its publisher "classic bottom-up peoples' history" that radically reframes 400 years of US history and explodes the silences that have haunted our national narrative.
1491: New Revelations of the Americas before Columbus (second edition) by Charles Mann. Groundbreaking work of science, history and archaeology. The book is available on Amazon, Barnes and Noble and other sites.
Braiding Sweetgrass: Indigenous Wisdom, Scientific Knowledge and the Teachings of Plants, a book by Robin Wall Kimmerer (Citizen Potawatomi Nation). "As a botanist, Kimmerer has been trained to ask questions of nature with the tools of science. Following Potawatomi traditions, she embraces the notion that plants and animals are our oldest teachers. In Braiding Sweetgrass, Kimmerer brings these two lenses of knowledge together to take us on "a journey that is every bit as mythic as it is scientific, as sacred as it is historical, as clever as it is wise" (Elizabeth Gilbert). The book is also available on Amazon.